Posts tagged
quilting
0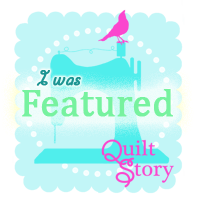 Oh my goodness! No sooner do I see that I was featured at JAQS, I continue clicking through my blogroll and see that Positively Perfect was featured on QuiltStory's Fabric Tuesday, too!
This is the first time one of my quilts has been recognized in the quilting community like this, I'm just so excited!
I'm glad so many people like the quilt. Thank you Heather and Megan!
0
How exciting! My Positively Perfect Quilt was featured on JAQS Studio's MADE BY ME Linky party! I took a screenshot:
It's nice to be recognized for something you put so much hard work into, isn't it?
Speaking of JAQS, she has a really nice Etsy shop as well as an online store. I simply love the fabrics she stocks!
Thanks Q!
10
The quilt for mu cousin is finished! I used this Positively Perfect quilt pattern and a jelly roll of Cape Ann fabrics, among others, to make it. I tried to get some outdoor pictures of the quilt this time and I also messed around with the contrast and other settings in Photoshop, so maybe this time my pictures are a bit better!
You can see the quilting really well in this shot. I did a diamond pattern on the pluses and dots, and then lines on the borders.
The back was pieced together using leftover pieces from the two border fabrics on the front, and leftover pieces from the Jelly roll. I also had one more plus left over somehow, so I used that in the backing, too.
You can see the binding a bit better on this one. I used all the leftover stripey fabrics from the jelly roll to machine bind my quilt. I love that I can just grab a few strips from my Jelly roll to bind the quilt! Makes things so easy.
This "made with love" label was on one of the selvage pieces! How nice is that? So I added in my name and date to the label. Forgive the smudging… I want to keep things as anonymous as possible.
Happy Friday!
(more…)